AIRFLOW® PROPHYLAXIS

MASTER
What is the AIRFLOW® Prophylaxis Master?
The precision that is synonymous with Swiss made dental cleaning equipment is carried through into the AIRFLOW® Prophylaxis Master. This product was developed over 100,000 hours and underwent the toughest clinical and technical trials in the EMS Research Center in Switzerland. Leading dental professionals around the globe were involved in the building of this technology.
Used in Guided Biofilm Therapy, this innovative dental cleaning unit was created for intensive professional use and has been designed with your patient's comfort in mind. Characterised by streamlined ergonomics, expert precision and effortless maintenance, this device features extremely high dental hygiene and safety standards.
Catering to the 3 core treatments of Guided Biofilm Therapy – AIRFLOW®, PERIOFLOW® and PIEZON®, the AIRFLOW® Prophylaxis Master performs to the highest level. Efficiently removing biofilm, plaque, calculus and stains, this powerful instrument uses the power of air, warm water (up to 40 degrees!) and ultra-fine AIRFLOW® Powder to make professional teeth cleaning easy.
How was the AIRFLOW® Prophylaxis Master made?
The original from the Inventor. Guaranteed Swiss Precision and superb design. Reliability and know-how since 1981. The Swiss Made AIRFLOW® Prophylaxis Master was developed in the EMS Research Center.
Various handpieces are included with the AIRFLOW® Prophylaxis Master
The AIRFLOW® Handpiece is for removal of biofilm, young calculus and stains on natural teeth, implants and restorations.
The PERIOFLOW® Handpiece and the AIRFLOW® PLUS powder are used in minimally invasive subgingival biofilm removal in periodontal and peri implant pockets and interdental spaces. Helps to prevent mucositis and peri-implantitis.
The PIEZON® Handpiece is for the removal of supra and subgingival calculus.
Key Features of the AIRFLOW® Prophylaxis Master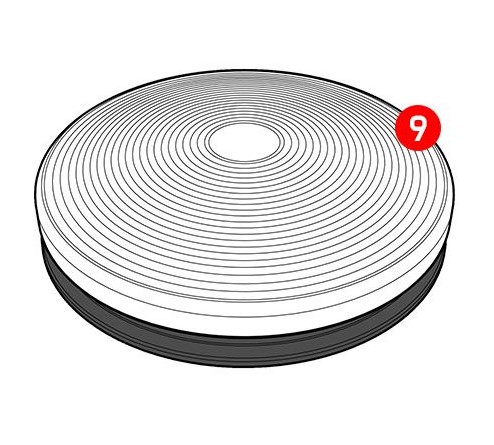 1  PIEZON® NO PAIN HANDPIECE
2  AIRFLOW® MAX HANDPIECE
3  PERIOFLOW® HANDPIECE
4  CAPSULE – The AIRFLOW® powder capsule is made from a polymerized impact & chemically resistant material, offering significant gains in efficiency and ergonomics with a high-volume capacity.
5  PRESSURIZATION TOWER – New state-of-the-art pressurization system pressurizing and depressurizing within seconds with an integrated magnetic connection.
6  BOTTLES – Equipped with 2 transparent bottles: PIEZON® and NIGHT CLEANER. The PIEZON® bottle comes with the ability to use specific disinfection solutions as well as distilled water. The NIGHT CLEANER bottle provides end of the day waterline cleaning & disinfection.
7  INTERACTIVE TOUCH PANEL – Simple and ergonomic, the new EMS touch panel comes with a 10 level responsive interface that regulates and manually adjusts the AIRFLOW® and PIEZON® power level. It also includes an adjustable temperature and volume control feature with operating sound notifications and maintenance reminder.
8  NEW CORD – Durable and more efficient, the new EMS cord has a 'plug-and-play' system that is easily detachable and simple to service. Powder tubes are made with surgical stainless steel for longer lifespan. An all-in-one robust Handpiece holder with integrated water supply system.
9  PEDAL – Wireless stainless steel foot-pedal with boost mode. 360º power activation access.
EXTERNAL FILTERS – transparent air & water filters allowing for an easy check at a glance.
PURGE SYSTEM – Completely integrated AIRFLOW® and PIEZON® waterline purge system. cleans fluid lines in under a minute.
NEW NO PAIN TECHNOLOGY – The dynamic response adapts the output power to the force applied on the instrument. No calculus = low power. High calculus resistance = higher power for minimal invasiveness.
HEATING SYSTEM – Heating System with an adjustable water temperature for a warm and comfortable treatment.
PIEZON® NO PAIN
Able to deliver 32,000 linear oscillations per second without any lateral deflection, providing a predictable and high-precision treatment outcome. It also has a built-in dynamic power-response feature that constantly adapts output power to the applied force for maximum patient comfort.
High-Precision Spray
The PERIOFLOW nozzle provides a minimal-invasive access to periodontal pockets, restorations and implants without the need to remove crowns or prosthetic works thanks to its slender design and high-precision spray.
Ergonomic Handpiece
Sleek and lightweight handpieces for greater dexterity and lower hand-fatigue. With a lifespan of over 1000 sterilization cycles enjoy unparalleled durability.
Temperature control
Unique temperature control feature and 5 levels to choose from. Select between unheated, 25°C, 30°C, 35°C and 40°C - ideal for children, sensitive patients and recall appointments.
Watch the AIRFLOW® Prophylaxis Master in action
GBT & Implant Dentistry
This video developed in conjunction with Quintessence Publishing describes the processes from peri-implant health to mucositis, the transition from peri-implant mucositis to peri-implantitis and finally healing and prevention.
GBT & Paediatric Dentistry
In this video Guided Biofilm Therapy was done on a 11 Year old patient. On assessing the patient, there was obvious biofilm covering most teeth. No bleeding on probing or deep pockets was observed. GBT is NO PAIN and helps to motivate and encourage oral hygiene in young children.
GBT & Orthodontics
Guided Biofilm Therapy has been performed on a 23 year old healthy orthodontic patient in this video with a history of smoking. Using the state-of-art AIRFLOW® technology with Erythritol PLUS powder, giving a 360° access to the orthodontic brackets, a complete removal of the biofilm is possible from both supra gingival areas and soft tissues. PLUS powder is extremely safe on ceramic brackets as it does not alter the surface integrity.
GBT & Teeth Whitening
This video shows the clinical case of a 32 year old male patient with a desire to have his teeth whitened. GBT treatment removed all the biofilm and calculus subsequently boosting the overall shade of his teeth. Without GBT, the bleaching agent would not have been able to be effective giving the patient a nice bright and healthy white smile.
GBT & Geriatric  Dentistry
The use of AIRFLOW® with PLUS powder offers a gentle and effective biofilm removal for patients who have recession, hypersensitivity and demineralized teeth. This video highlights that GBT is ideal for geriatric patients. It preserves exposed dentine whilst promoting healthy gums and soft tissues.
Book Your Free Demo Today
Witness first hand the power and ease of use of the EMS AIRFLOW® Prophylaxis Master and book in for a free test run demo today.
Alternatively if you have any questions please don't hesitate to get in contact with one of our friendly and knowledgeable team members. You can also find the answers to our FAQs with Ask Tabitha, our Education Manager and award winning Dental Hygienist.